Hi Guys, I'd like introduce you to another wonder author, Kastil Eavenshade as she celebrates her latest book,
Wolves of Argonne
from
Evernight Publishers
.

Welcome, Kastil. Tell us about yourself and your writing.
My dad was in the Army so we moved around a lot. Thankfully, I was born just outside of Pittsburgh in the same hospital as my dad. I'm one of those girls deeply into sports. Well, Pittsburgh sports anyway. I started writing in the 7th grade. Well, I thought it was writing but looking back, it was crap but I loved to read books. It just sparked my imagination big time. I found that there wasn't a genre I didn't care for or limit myself to so I write under my real name and two pen names. I have so many ideas floating in my head, I don't want to pigeonhole myself to one genre.
Wow, that must keep you busy. Since you started writing in Grade 7, I take it you always wanted to be a writer?
Honestly, I'm a bit of a dreamer and I chased butterflies more than I ever chased dreams. When I was younger, I never thought my stuff good enough. I had friends pushing me but with having no faith in myself, I never took it anywhere. In July 2010, I took a leap and started not only finishing a project but submitting it.
Great. I am yet to complete my current WIP, but I've given myself some deadlines. How did you get into erotic romance?
I had friends who wrote it and I dabbled in the naughty on the side. I buried the red-cheek inducing stories, way too embarrassed to show anyone. Then one of my circle of female writers mentioned an anthology call by Evernight Publishing. Intrigued, I thought about it while on vacation. I had a piece originally titled
Demon Kin
involving a half demon/half angel named Maurizio. The story was stalled but it had elements I thought would work for the anthology. So I picked it apart and kept the main love interest for Maurizio. I submitted it and got an acceptance. My belief in myself soared so I wrote another story for the m/m anthology which also was accepted. I love writing naughty pieces where the characters grow beyond the sex and reveal love for each other. That's important to me—showing a connection.
What's the most rewarding thing about writing for you?
Seeing those who read it find enjoyment out of it. I mean, that's why I'm writing—for the readers. :-)
Five Fun Facts:
Pantser or Plotter: Hah! Pantser complete with bell bottoms. If I plan something too much, my muse has a fit!
Sweet or sour: Sweet.
Vacation spot: My family goes to OC, NJ every year but it's not my choice. My favourite destination as a kid growing up was back in Pittsburgh visiting our relatives.
Colour: Red
Hobby (writing excluded): Art! I've even gotten my artwork on two book covers. One is JA Belfield's Darkness & Light. I drew the ying yang wolves and on my book The Wolves of Argonne, The paw print tattoo is my original art as well.
I always wish I could do art. I do book covers for fun, but nothing I want to show the world - that's for sure. What do you do when you're not writing?
I, unfortunately, have a day job. It sucks a lot of my time and on a particularly exhausting day, my brain is too fried to write a word. In fact, with all that's going on at work, I'm suffering through a major bout of writer's block. My mom gave me her Netbook and I plan on using it to write at work on my break. I don't worry about a word count because I find that's too restrictive and if I have to adhere to a rigid schedule, I won't write anything but stuff the delete button will take care of on the first round of edits.
Why should readers buy your book (I know, tough one, but it really does make you think. PS. 'Because I wrote it' doesn't count. LOL)
Fairytales! It's all the rage, you know. *wink, wink* If there's one thing I've always been fascinated with, it's fairytales. That I got to make a naughty twist on one is a plus plus. Actually, the fairytales I used—
Red Riding Hood
—I've used a couple of times before in stories but not all of them are of the erotic variety. I spun what I hope is a different tune on this one. Red Riding Hood still has a grandmother but the grandmother is actually her aunt. She doesn't know that or the dark secret Nana has been hiding. As she unravels it, she also finds the men she's destined to be with for the rest of her days. I added domination and primal instinct for fun.
Any wise words for aspiring/struggling authors?
Don't give up, for one. Also, learn to take criticism from not only your peers in the writing world but from reviewers when you get published. It's going to hurt, believe me. It's not about a word count or how many writing books you've read. The best thing I could have done is found a circle of friends who are writers and (this is very important) make sure they don't get on a soapbox and praise your work. You need someone who is going to be honest about your manuscript and tell you exactly what's wrong. Publishers aren't going to knock you out with kid gloves, neither should your friends.
Very wise words, indeed (putting it down in my notebook) :-). Please give us a sneak peek into your latest book.
BLURB
:
Rosabel lives on the edge of the Argonne Forest, a place where werewolves rule and don't care for humans meddling in their affairs. During the harvest festival, she catches the attention of the alpha, Ulric. Beneath the mask, he makes his intent known with one hungry stare and awakens something dwelling deep within her soul.

She discovers her sexuality and submits to the whims of the virile and powerful shifter. When the arrival of another werewolf challenges Ulric for his prize, Rosabel finds herself between two wanting lovers.

Can Rosabel choose between her dominant suitors, or will the overbearing males learn to share their lady in the crimson cloak?
EXCERPT
: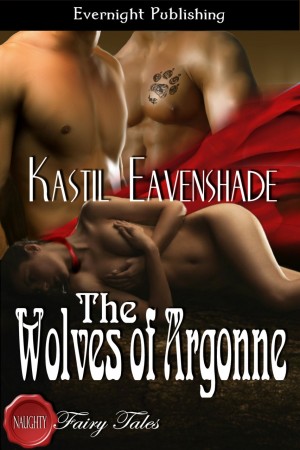 At the strike of the bow across the violinist's strings, the first dance began. She laughed, joining hands with a red-masked gentleman. The palms of his hands were clammy, a nervous twitch to his lips, and he danced with the grace of a wild boar. She took off with grace and elegance, leading him around the wolf statue. Not even his awkwardness would ruin her mood for the evening. As she twirled away and reached out for his hands again, another took his place.
Rosabel almost lost her footing. There was no mistaking those hazel eyes behind the red mask. Her heart fluttered as the surge of energy spiked between them. He pulled her in close, and she caught the whiff of the pine and heather scent uniquely his.
"We meet again," she whispered against his chest.
"Now, Rosabel," his baritone voice filled her ears, "knowing your suitor at the festival is against the custom."
She whorled away from him before his strength drew her near again. His lips came dangerously close and the aching need to press her mouth to his overwhelmed her. As she came within a hairsbreadth, the sudden coldness of his departure caused a whimper to form in her throat.
Just as quick, another male took her in his arms for a dance.
The heat and yearning she had with her devilish prince of the forest vanished in the arms of another man. She went through the motions but her eyes sought her mate.
Mate.
The word jarred her back to reality, and she broke from her partner. Shaking, she bolted away from the festivities into the comforts of the shadowy alley just on the edge. She cast her gaze to the moon, basking in the tranquility of its zenith. The nervousness and desire for her hazel-eyed tempter slowly cooled.
"My Rosabel."
She stiffened at the heat of his breath on her neck only to melt as his arms wrapped around her waist. The whimper she held in slipped out when his lips caressed her nape. Heat rose in her cheeks.
From her perspective, she could see the festival. Her mind called for her to rejoin it and leave the intoxicating touch of the man. Deep inside her chest, her heart thundered for her to submit to his every whim.
"Do you feel it?" His tongue snaked along her earlobe. "We are destined to be as one."
She had no words, the trembling of her legs voicing a thousand of them. Slowly her skirts hiked farther up her legs by his machinations. Her stomach quickened, and she reached up to run her fingers through his hair as she pressed against him. His erection dug into her back, letting his intentions be known.
So against every courting ritual she'd been told about, she opened her thighs to his probing. A small gasp escaped her lips as he found her tender spot with ease.
"Careful, my mate. You do not want to draw attention to your state." He chuckled before suckling at her neck.
Her chest heaved. Her lip between her teeth to stave off the growing moans, she unabashedly ground her hips against his dexterous fingers. Rosabel enticed a growl from his lover's throat as she rubbed against his hardened shaft. Pain flared in her neck as his teeth scraped along the skin.
She fisted her hand in his hair, her legs barely holding her weight. His digits became more insistent, flicking and probing her sensitive areas. The warm feel of her wetness trailed down her leg, and she nearly collapsed when his finger slid inside her core. His strong arms held her upright but she could not take the torment of his touch any longer.
"Take me. Please." She moaned.
"No, not like this. I offer but a taste of what I intend to do to you." He drove his finger deeper, testing her virginal passage before pulling out.
She swooned in his arms, the pleasure shaking her very soul. Her skirts hung back in place, and she swayed on her feet, her decadent lover steadying her.
"Go back to the party, my sweet." He peeled away from her.
"But…." She turned to drag him closer, and he'd vanished.
***
BUY LINKS:
Evernight Publishing | Amazon | 1Place for Romance | Smashwords | Bookstrand | All Romance eBooks | Barnes & Noble
Oh My! What a SEXY excerpt! And so many places to get a copy.
Where can we find you online?
I can be found here:
GIVEAWAY!
Kastil is giving away a copy of
The Wolves of Argonne
! Leave her a comment for a chance to win a copy
Thanks for being a guest on my blog, Pam/Kastil. Good luck with your current WIPs and sales.